Stories straight from the heart of our Papermelon family.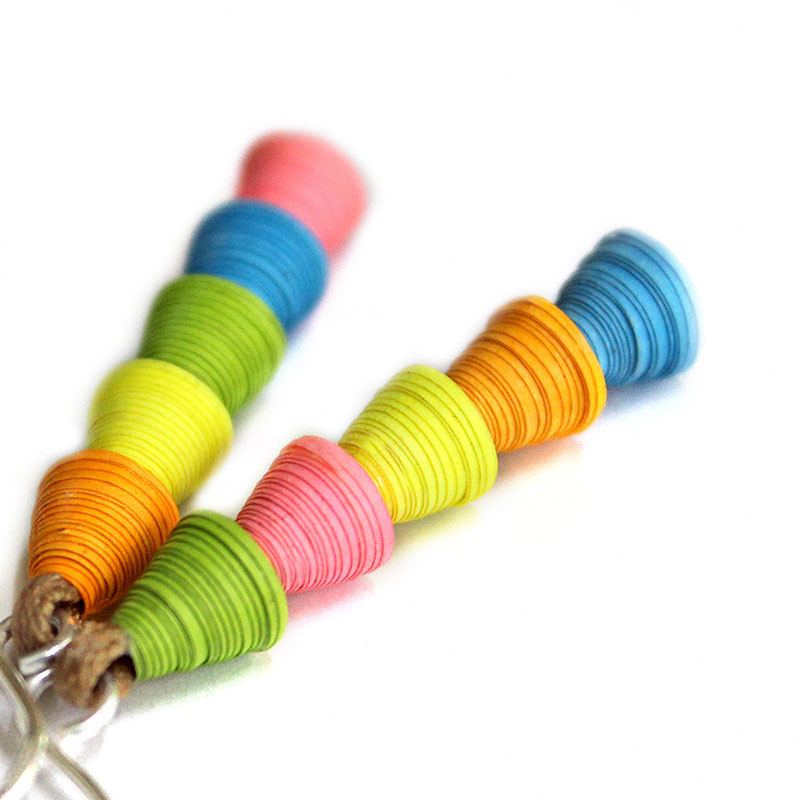 Love these earrings. They are very colorful and cute. It arrived much before the expected date. The best part is, it comes in a cute little gift box and the seller left a handwritten message ? I just loved it. Cant wait to wear it.
Vidhya Srinivasan
Creative friendly lady across the oceans. Sooooo time consuming to create these masterpieces that look FABULOUS. Quick service to create matching earrings and speedy despatch. Pleasure to deal with…I'll be back, Aussie Jennifer ?
Aussie Jennifer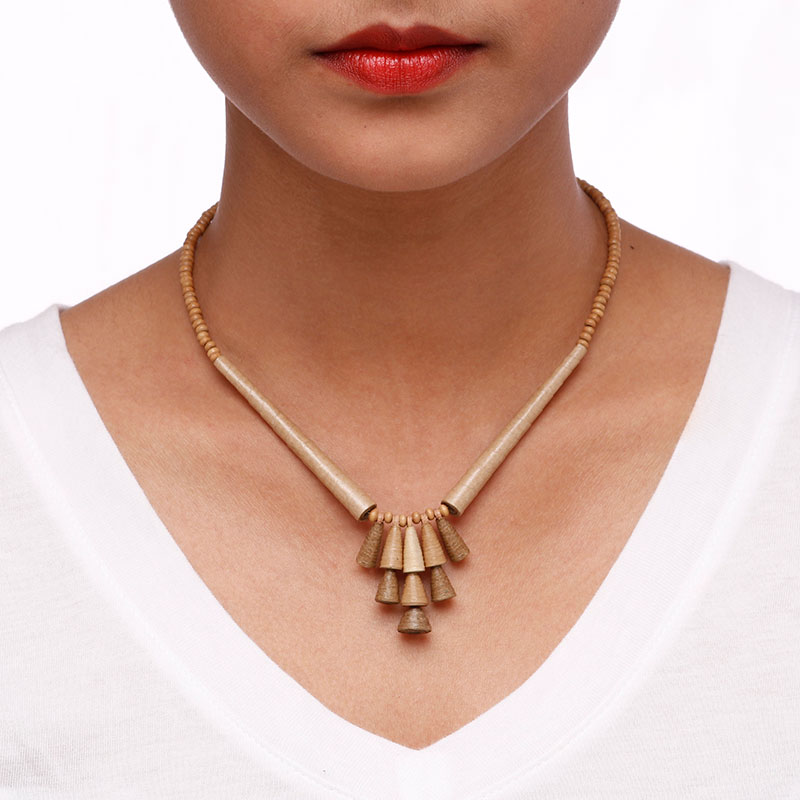 This necklace is very well made and designed of paper! Very unique and looks amazing! Thank you very much!!!
Beate Steuk
I LOVE, LOVE, LOVE this necklace! It's so unique, looks great, it's light-weight and comfortable! Thank you so much!
Kerri Beth
I love these earrings, they are both light and original. Great service, I asked for a shorter version and she accepted kindly. Thank you!
Helene Miville-Deschênes
Love these earrings! They come in the cutest box. The seller communicates very well, which helps a lot!
Sara Sellers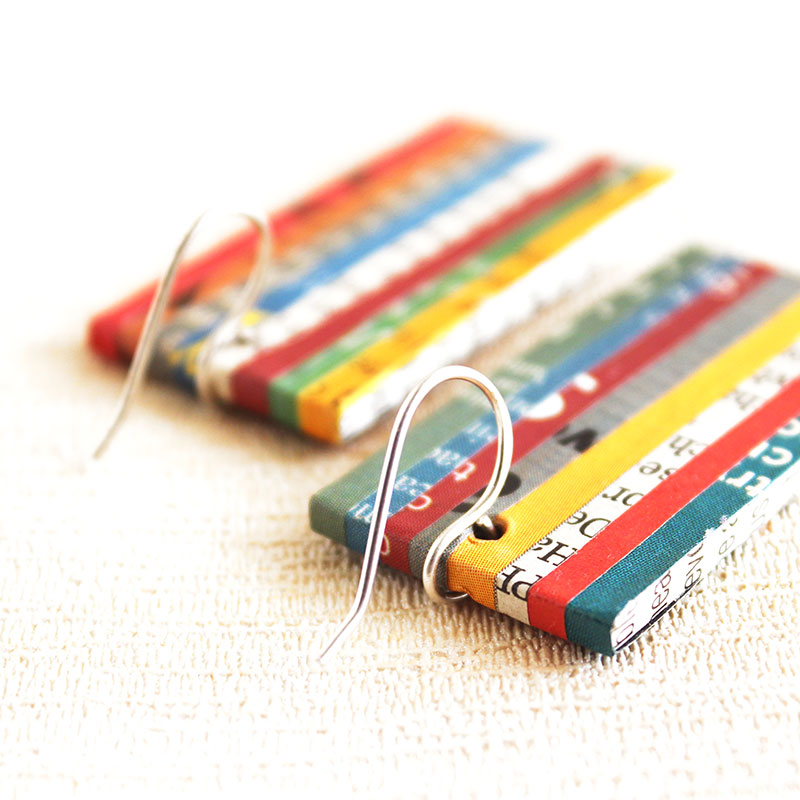 Beautiful! Got so many compliments on my earrings – shopping now for my next purchase! =)
Stayce Koegler
Beautiful, exquisite pieces .. attention to detail and would highly recommend .. many thanks .. A++++++++++
Deborah Warren
The necklace is really super nice, it looks really good and fits wonderfully to monochrome but also to black and gray striped shirts, thank you very much!
Petra Lange
Fabulous recycled earrings, nicely packaged. These are so versatile, I can wear them with anything. Thank you! I love them!
Sara Eastler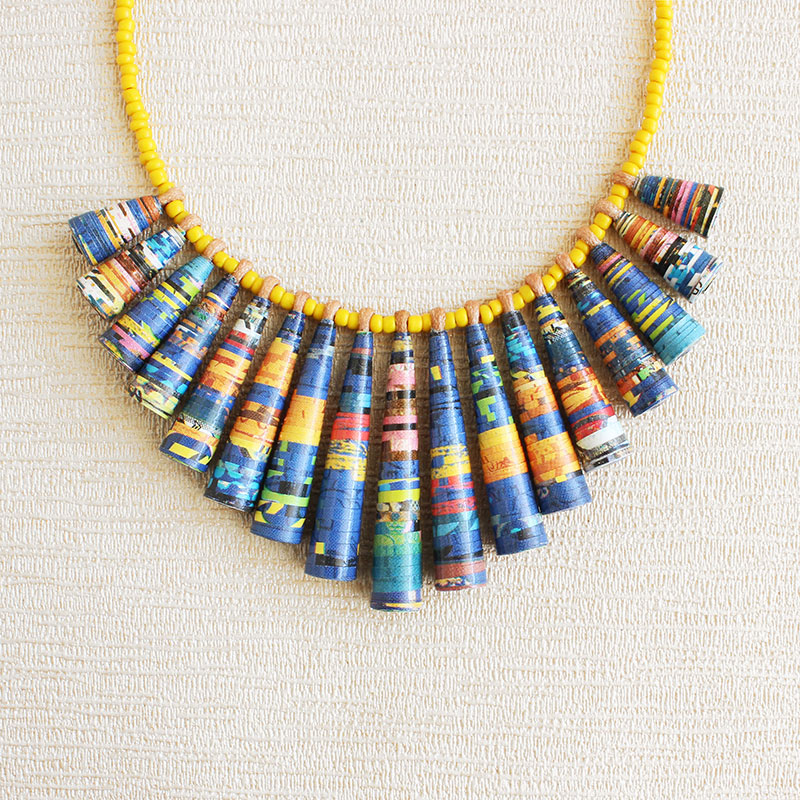 I was so excited to open this beautiful package with lovely stamps from India. The packaging was as meticulously crafted as the necklace itself. The photos are accurate to what I received. I'm seriously considering the earrings now.
Michelle Harrell
Received my earrings today – they are perfect! The packaging was also very nice – i don't even need to wrap them. Thanks so much!
Jennifer Clement
Love it, got all three pieces and it looks wonderful. It feels great, light and looks so organic and beautiful definitely my favorite earrings yet. Excellent service by Devi.
Bilda Perozo
This necklace is wonderful,I love the colors and shape.and it arrived fast, nicely packaged.Thank you, Annelies.
Annelies Lerman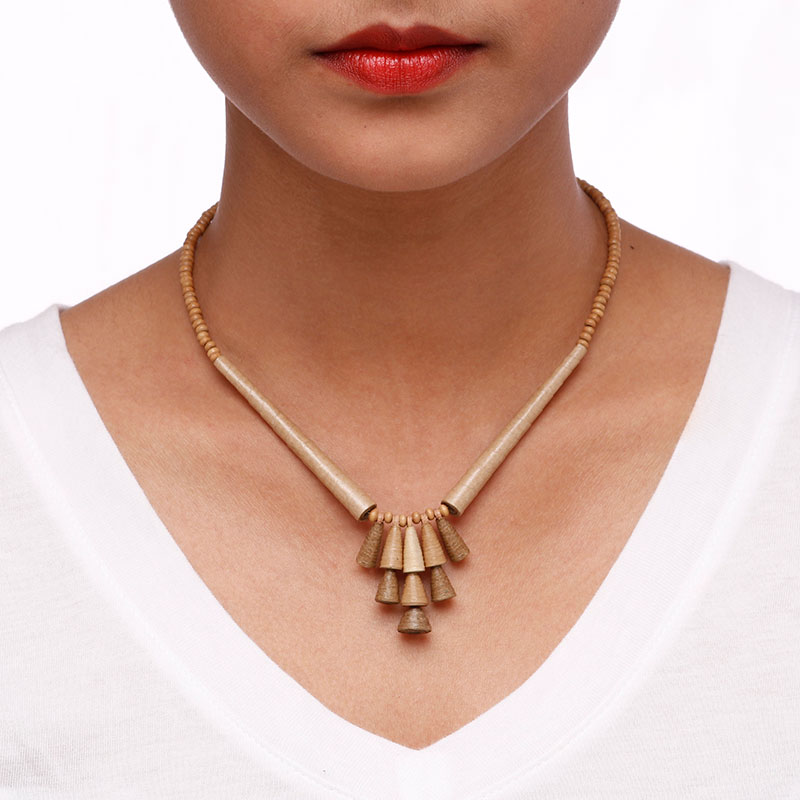 Great, hard to believe it's made of paper! It looks like wood. So cool!
Josiane Gagnon-Bagheri
Stunning necklace. Beautifully crafted. Delicate-looking.
Ellen Stern
Absolutely exquisite! Devi does exceptional work. I am thrilled!!!
Betsy Roberts
The fresh lemonade earrings are absolutely beautiful. Delivery was held up because of the Coronavirus pandemic but Devi regularly kept in touch with an update on the postal situation. Great service and a great product. Thank you!
Anne Roberts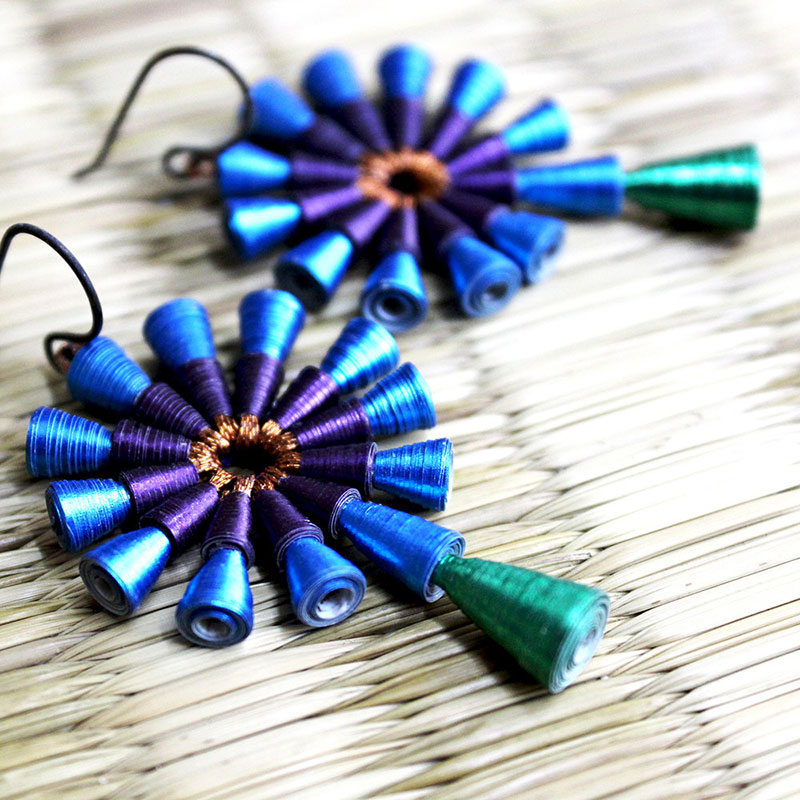 These were a present for my wife – and she loves them! She thinks they are a master piece of jewellery making. I like them too ?
Mikkel Weider
Beautiful!! I am delighted with both pairs of earrings, Devi. They looked unusual and very carefully made even from looking at the photos, but now that they have arrived I see that they are absolute treasures. Thank you so much! n nStephanie
Stephanie Sullivan
I have ordered more than a dozen items from this shop. The owner is wonderful. She is creative and talented and takes great pride in making beautiful, lightweight, unique things. I am so happy I found this shop. These earrings are absolutely beautiful.
Nancy Wainer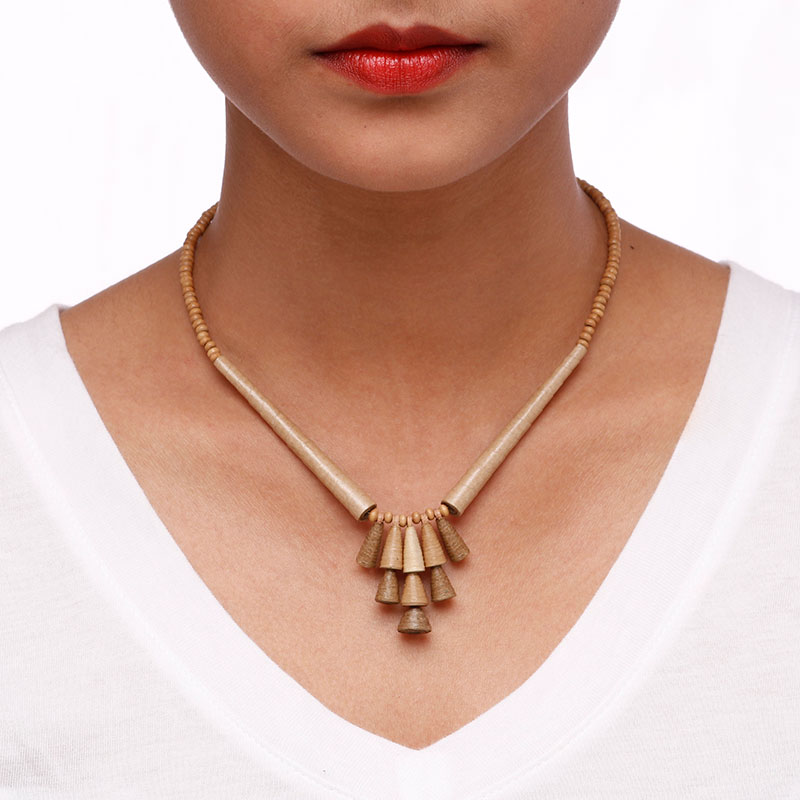 The necklace and earrings are so beautiful and well made. No one would ever guess that it's made of paper, but I plan to tell everyone – It's so cool! They came beautifully packaged in a reusable box. I will recommend this shop to anyone wanting unique jewelry! ?
Denise Smith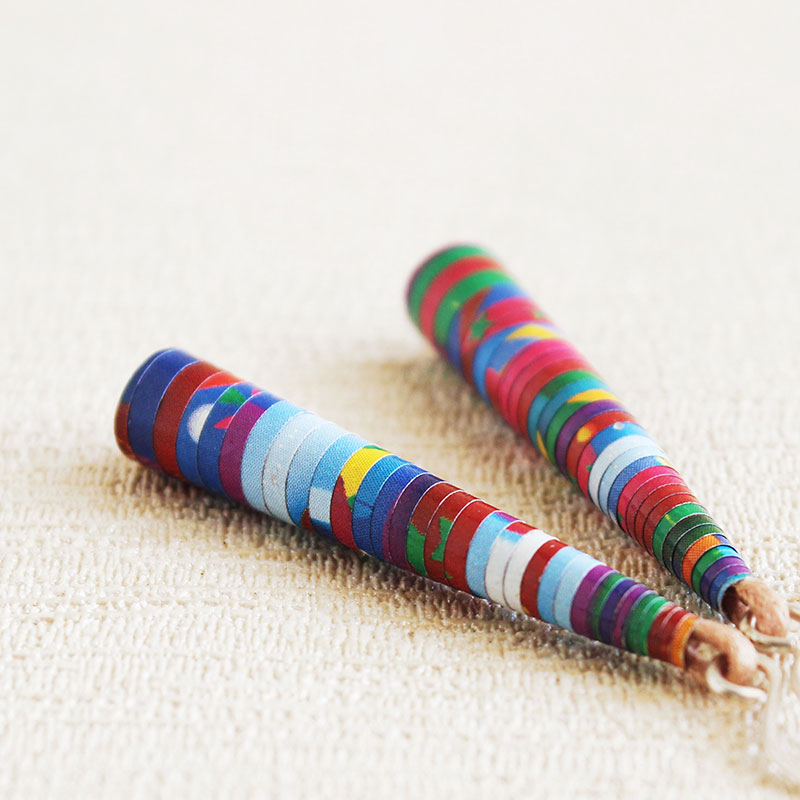 So innovative! I like the shape, color combinations, and creativity of using rolled colored paper. Thank you!
Cynthia Heyer
Very simplistic, unique and very lightweight. These earrings are very comfortable to wear. Bought in different colors to wear with many outfits. Great earrings. Thank you.
Kathleen Norris
I just love those earrings! I have received many compliments and I can't stop wearing them! Thank you very much!
Susan Wright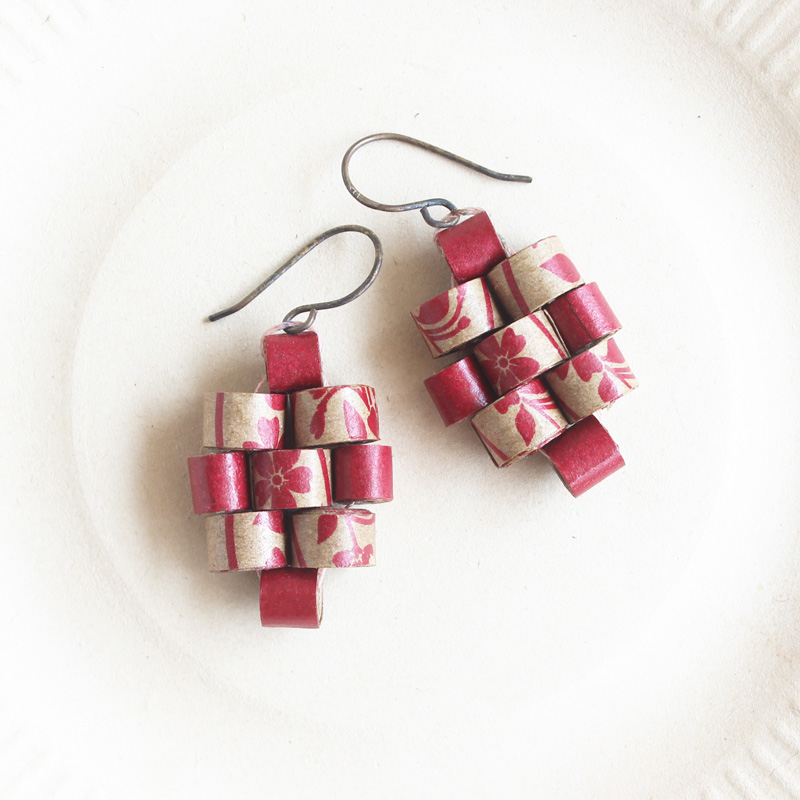 I have ordered many pair of earrings from this shop – some for myself and quite a few as gifts. EVERY pair of them is BEAUTIFUL. The craftsmanship ( the craftsWOmanship!) is AMAZING. The creativity, color and shapes are sooooo unique. The shop owner is so lovely -and so attuned to detail – even the packaging is beautiful! I wore these particular earrings this week and got SOOOOO many compliments. I am so glad I found this shop.
Nancy Wainer
I bought these as a gift. They were well-received, to say the least! I even used the actual envelope as the gift packaging. I will definitely order from this seller again. It is such a unique product!
Randel Megan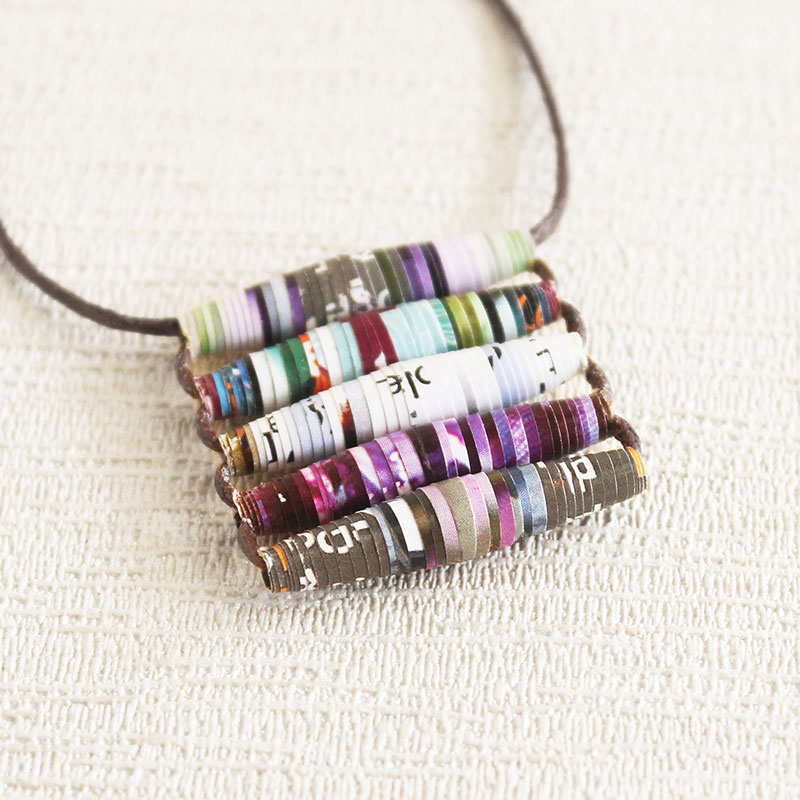 It is very delicate necklace! Small and cosy. Love it and look forward to wearing it this summer! Thank you, Devi, for little gift as well – you are a very talented artist!)
Christina Maxwell
Devi is really wonderful, and the earrings are lovely. I can't wait to wear them!
Marcy Sacks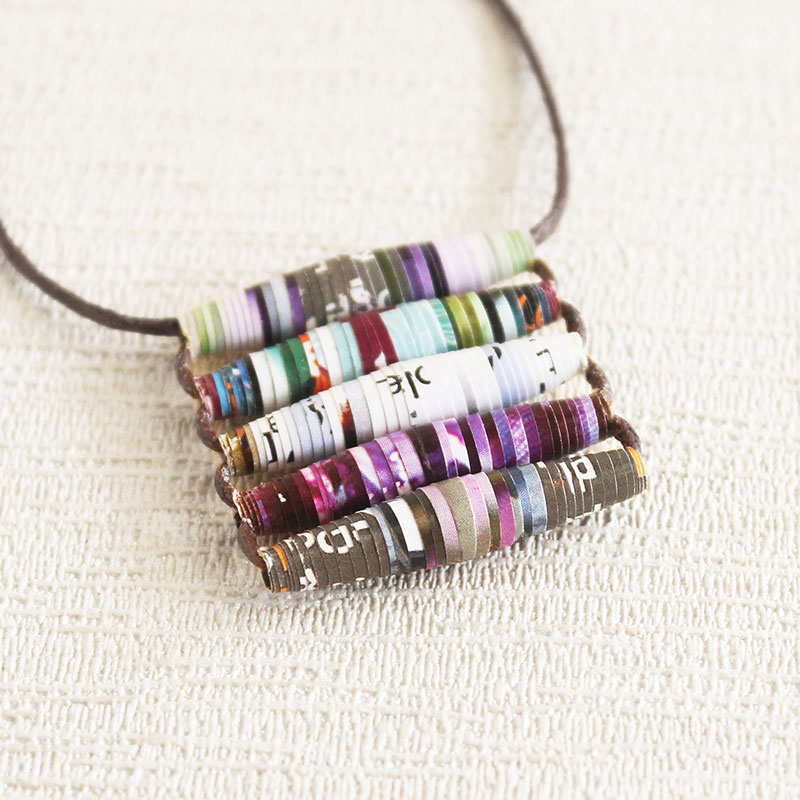 Admirable creative artistry, beautiful color sense, lovely and unique necklace. Outstanding customer service. Excellent packaging as well. Thank you!
Julie Gury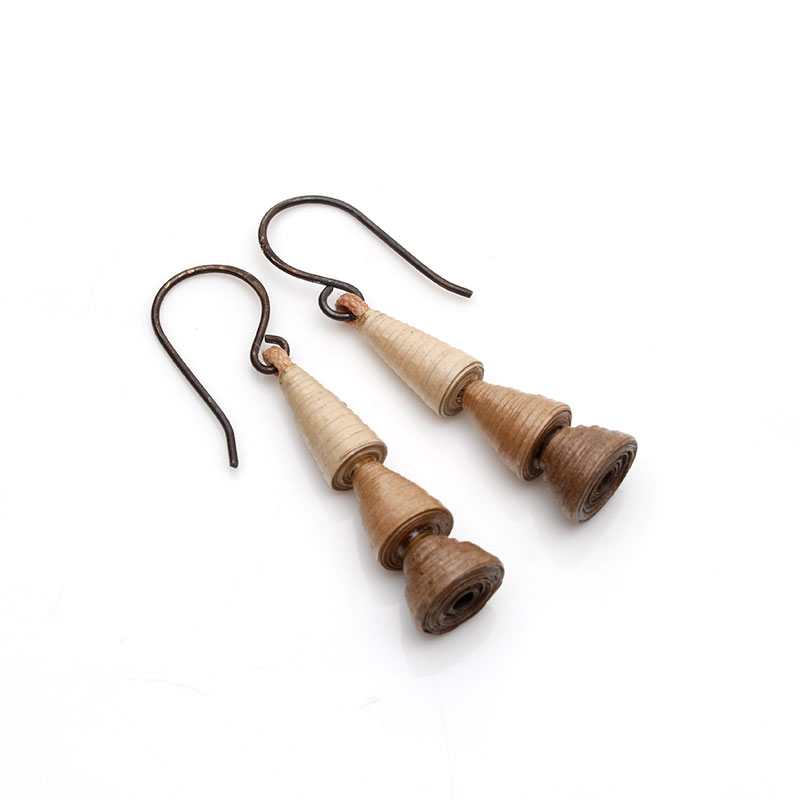 These are so gorgeous and elegant. Perfect neutral shades and beautifully made. So lightweight-will wear often!
Elizabeth Pruitt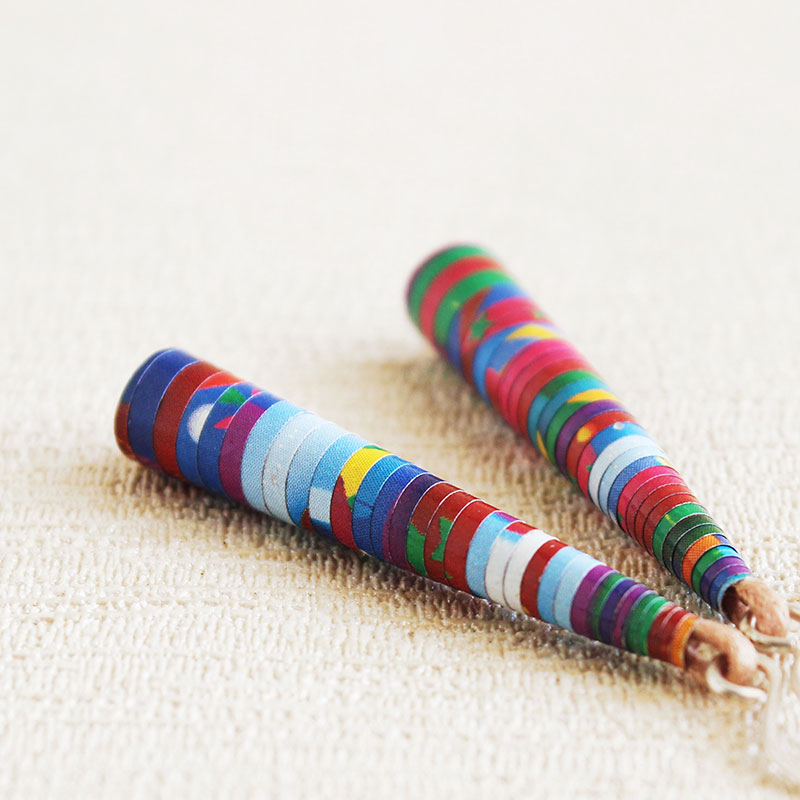 Love to wear these all the time. Seller was so gracious and generous with me and throughout our transaction – I'm happy to support her work! They are well made and go with everything!
Michaela Marchi
Many compliments on this. And thank you for the quick shipping!
Carol Berryhill
Great work of art. Unbelievable what can be done with the magazines.
Dana Medvedova
Amazing earrings! Very unique design! And fast shipping!! Love them , as well as the box.. Lovely:P
Eleni Kalyva
I love this earrings. Although I bought them for my friend, I kept them for myself. Fab seller. Recommended!
Johanna Karlsson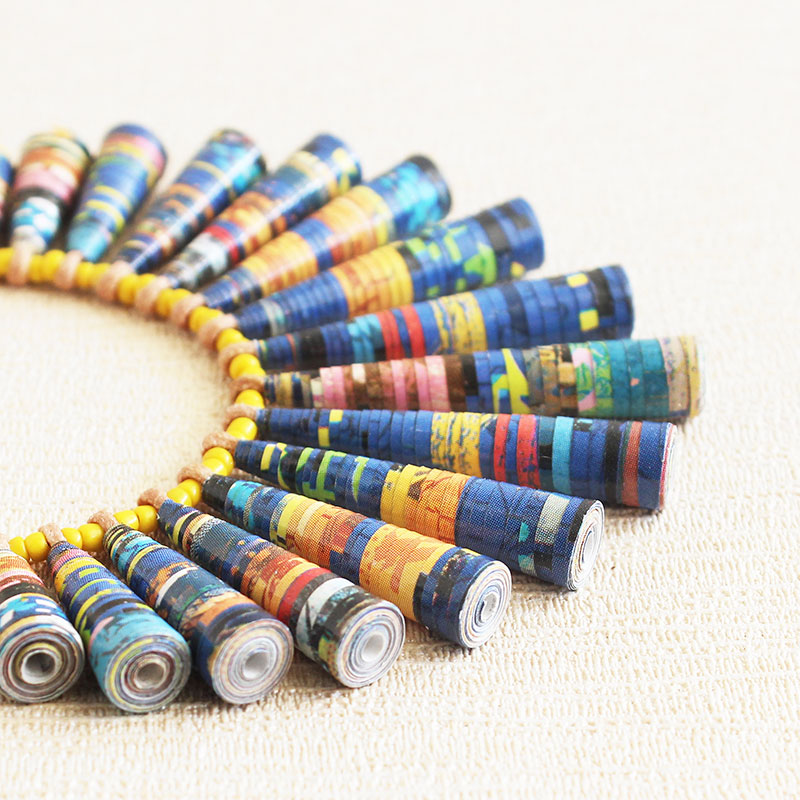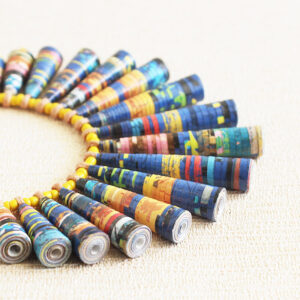 Love the look of this uniquely beautiful jewelry set! Hard to imagine it is from paper and so well made! Great color combinations, fun summer jewelry. Thank you!
Marianna Crans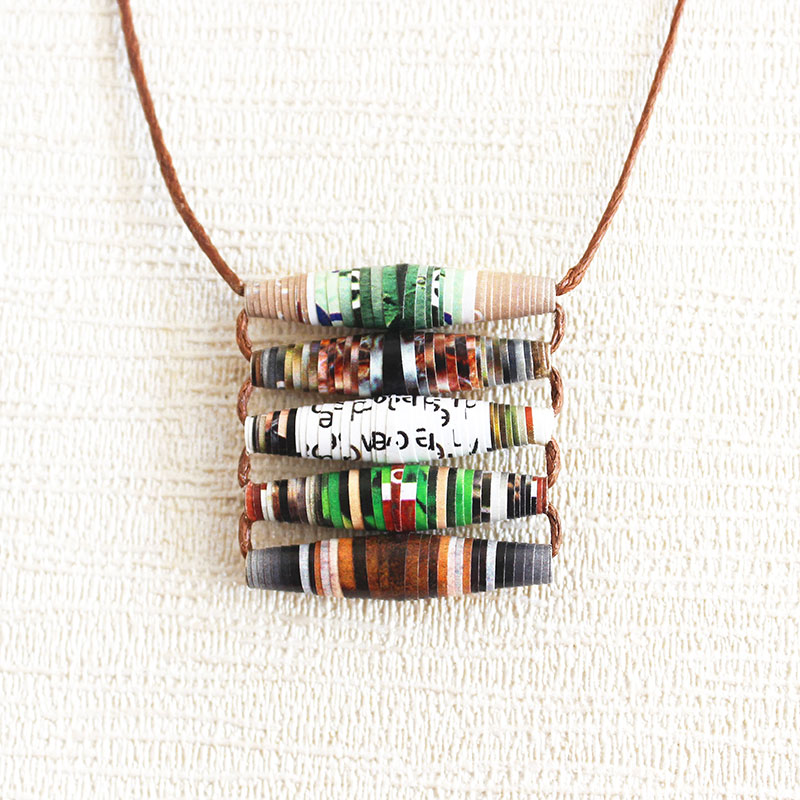 This is a really neat pendant. Got it as a birthday gift for my niece. I think she'll love it. Very well made and sent in a cute gift box. Packaged well and arrived in perfect condition. It only took 15 days to get from India to the east coast of the US. I don't think that is bad at all. It is also nice that this is an adjustable necklace. Very unique!!
Kimberly Lashbrook
These earrings are absolutely gorgeous and the lovely shop owner was so sweet. She made sure I got them in time for Christmas for my Mom. GREAT SHOP.
Tamara Strong
Super cute earrings. Love the color and style. Arrived quickly.
Lisa Montell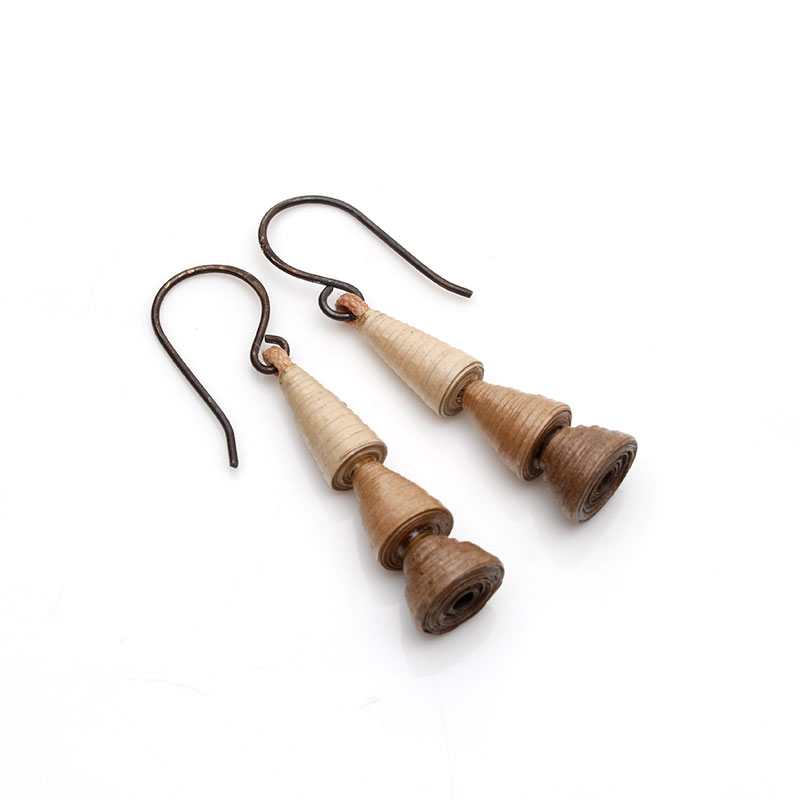 I wanted some small earrings to match the necklace I ordered, and Devi made them just like the ones I had pictured in my mind! The necklace and earrings came beautifully packaged in a reusable box, and I received them in the US from India in less than 3 weeks. I am extremely happy with my purchase, and will recommend this shop to anyone wanting unique jewelry! 🙂
Denise Smith
Covid delayed the arrival of these considerably, but Devi stayed in touch by messages throughout the long wait. I was delighted when they finally arrived. They we just beautiful from the packaging to the earrings themselves. Well worth the wait. I can't recommend this seller enough!
Rae Hargrave
Super funky and cool! Makes a great gift – but decided to keep them for myself! Will order more from this maker!
Joan Thomas
Perfect! These earrings are beautiful. awesome craftsmanship…exactly what I wanted and expected.
Natalia Romero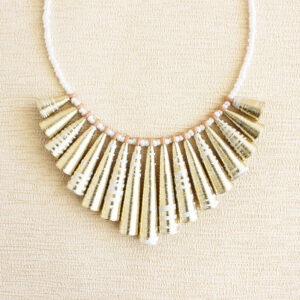 The necklace is exactly what I was looking for in a first anniversary present for my wife. That the seller can create something so beautiful (and sturdy) out of paper is amazing. The seller was also extremely communicative and attentive. Highly recommended.
Richard Piper
The earrings are very beautiful. Wonderful colours and nice and light to wear. Thanks!!
Joke Botman
Beautifully crafted necklace that I purchased to go with matching earrings. Lovely style that has such bright colors and is quite unique. Very happy buyer. Will shop here again. Thank you.
Kathie Norris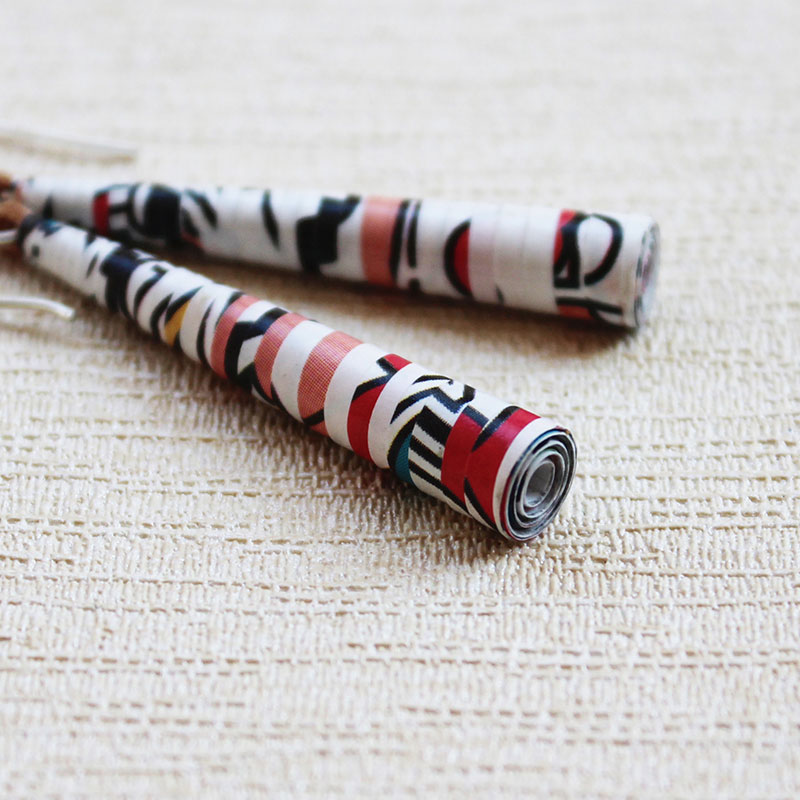 I recently bought these earrings. It is really so hard to believe that they are created out of paper waste given its flawless finish and design???. A big shout- out to the founder of Papermelon, Devi Chand, who single-handedly created this beautiful piece???.
I loved how beautifully the earrings were packed and delivered to me. I believe, more than a product, it's the story behind it that matters. Papermelon understands the concept well and presents it just the right way.
Jyoti Bansal
Thanks for the earrings and solid packaging! They are very cute and colorful!
Evelyn Nguyen
This shopping experience was throughly delightful. Communication was excellent and the shipping prompt. I loved the beautiful gift wrapping and feeling like I had truly received a gift. The earrings themselves are very well made and lovely. I will enjoy wearing them. I highly recommend this shop!
Janene Habers
Beautiful and excellent craftsmanship! My wife loves her new gift. Thank you so much PaperMelon!!!!
Erik Holmstrom
Lovely, beautifully crafted earrings – Love them!
Elizabeth Pruitt
My friend loved these! Said they were gorgeous in person and well made!
Samantha Speer
More beautiful and delicate than I could have imagined. Thanks for the prompt shipping.
Mary Behrens
Very nice art and technical skills and such a lovely communication with the artist! All the best, Devi 🌺
Mira Svetoslavova
Even nicer in reality! Really lovely earrings – amazingly inventive use of paper. Nicely packaged.
Fiona Campbell
Even cuter in person! Since it was an international order I was afraid I would not receive it before Christmas but it came on time!
Alisa Haley
Jess absolutely LOVED the bracelet. She was moved so much she actually cried. She wanted me to thank you for your beautiful work. Thanks again for your help and craftsmanship!
David Valdez
These are the greatest looking earrings. When I wore them, I received compliments. Even on televisits they are noticeable! They are really pretty. Thank you.
Roxanne White
You won't regret purchasing these earrings!! Light weight, goes with ANY outfit!!
Katherine Matchem
The paper necklace is beautiful, carefully done and packaged , it flew from India to France at lightening speed and the seller is super nice to talk with :))
Isabelle Courtens
I contacted the artist to see if she could make me some earrings like this, but longer. She was happy to do so. I love my new earrings! Shipping was the fastest I've ever had from over seas,so I know she got right on my order. I received them in a precious box with a nice note attached. Thanks so much!
Lisa Paey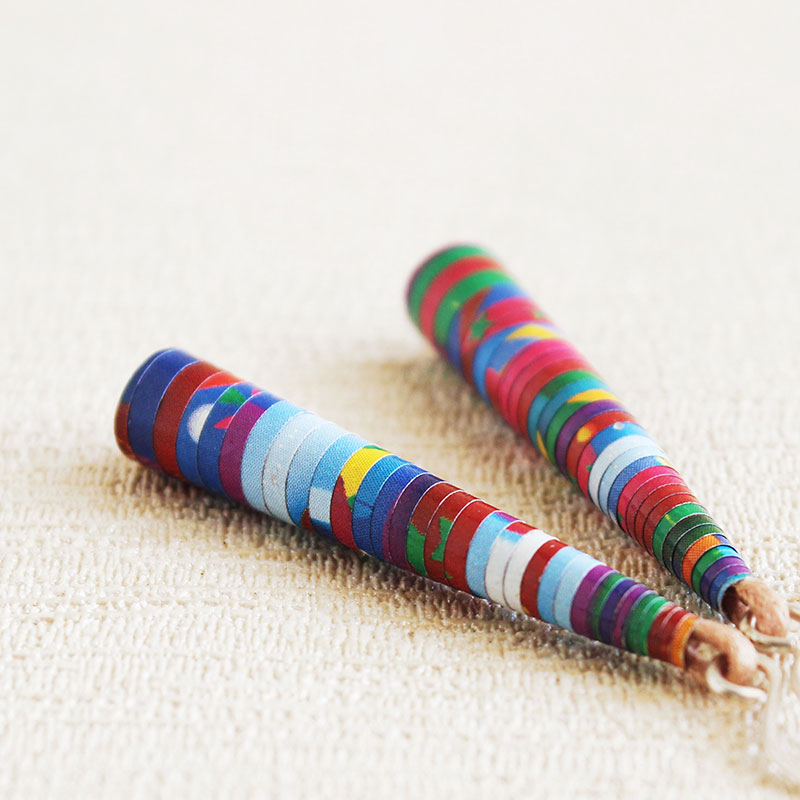 Beautiful earrings! Vibrant & more colorful in person-I just really love these!
Tamara Roden
I am in love with this bracelet. I love the colors used in the paper, truly unique. Fast shipment, thank you! 🙂
Chastity Collier
Absolutely beautiful earrings! Very light and unique as well.
Kim Bandel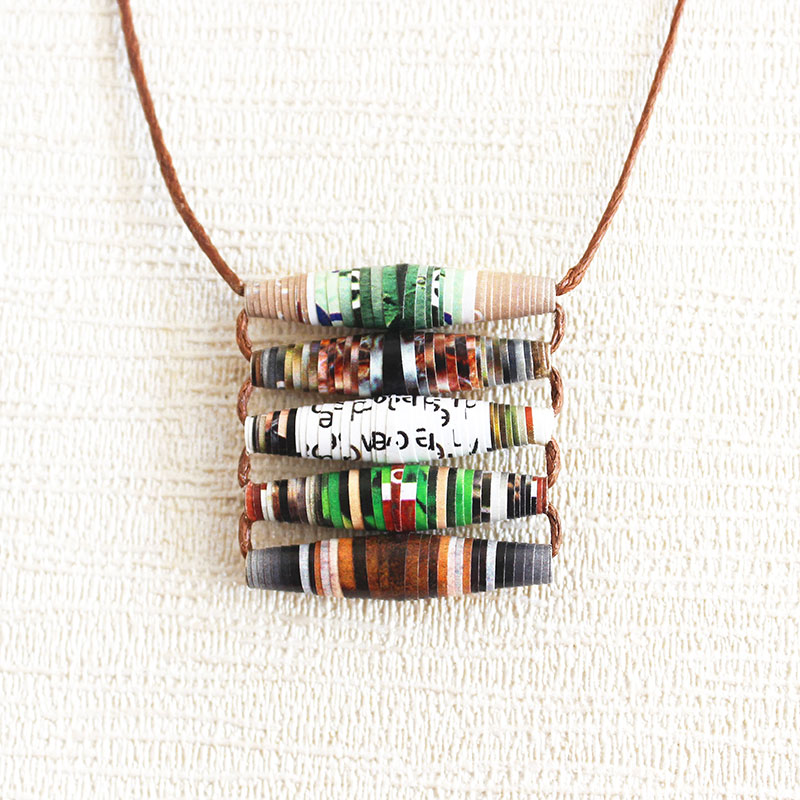 Everything is wonderful, perfect, beautiful… OH OH OH YOUR WORK IS JUST THE BEST. I am soooooo glad I found you. Thank you soooooooo much!!!
Nancy Wainer
I have to say this is my favorite shop. When I received it and opened it was like I have gotten a gift from a friend, on a gift box with a nice ribbon and a card with my name. It felt so nice to know that someone takes their time to actually put in so much love and thoughts in just the little things. The necklace itself looks as beautiful as in the picture. I also purchased the matching ring and earrings.
Bilda Perozo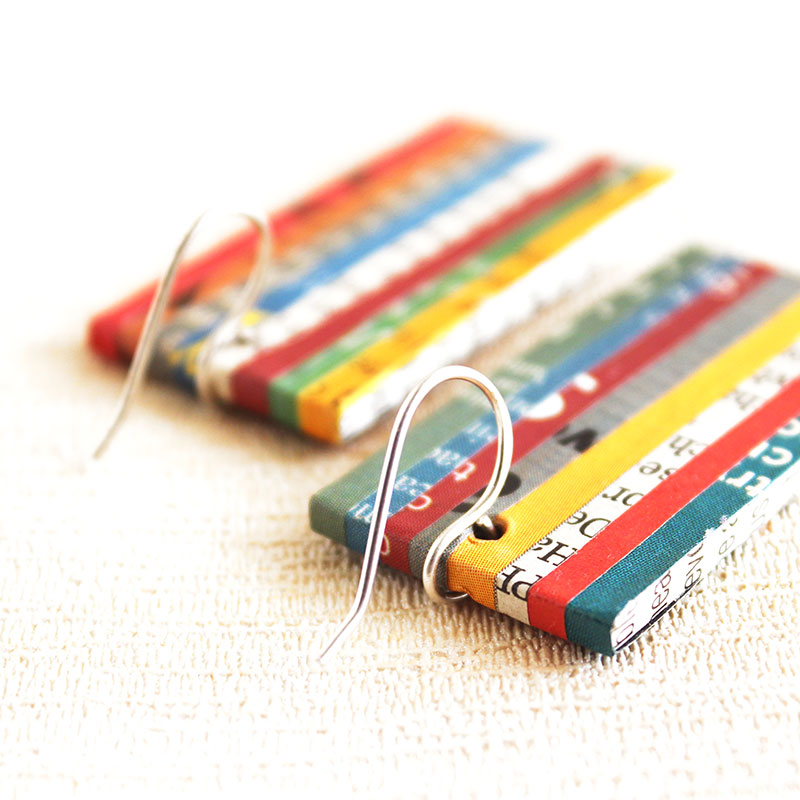 Fabulous customer service and a great set of earrings! Would happily buy from again!
Adrienne Kari
The cottage earrings arrived and they are WONDERFUL. I am SUCH a fan ( as you know by now). I wished we lived close by so I could run over to your place and give. you a thank you hug. Once again, your creativity  and talent and time and artistic vision and nimble fingers have delighted a customer!!! Gentle hugs sent your way in this crazy world.
Nancy Bertocci
Awesome earrings! They are simple yet quite elegant I bought several because I couldn't decide on one color. I love them all! Thanks, Amy.
Amy Gorczynski
I asked Devi to create a longer custom pair of these news capsule earrings, and Devi was very helpful and communicative. She messaged me about my preferences, and quickly sent the earrings out. Thanks for the earrings, Devi!
Evelyn Nguyen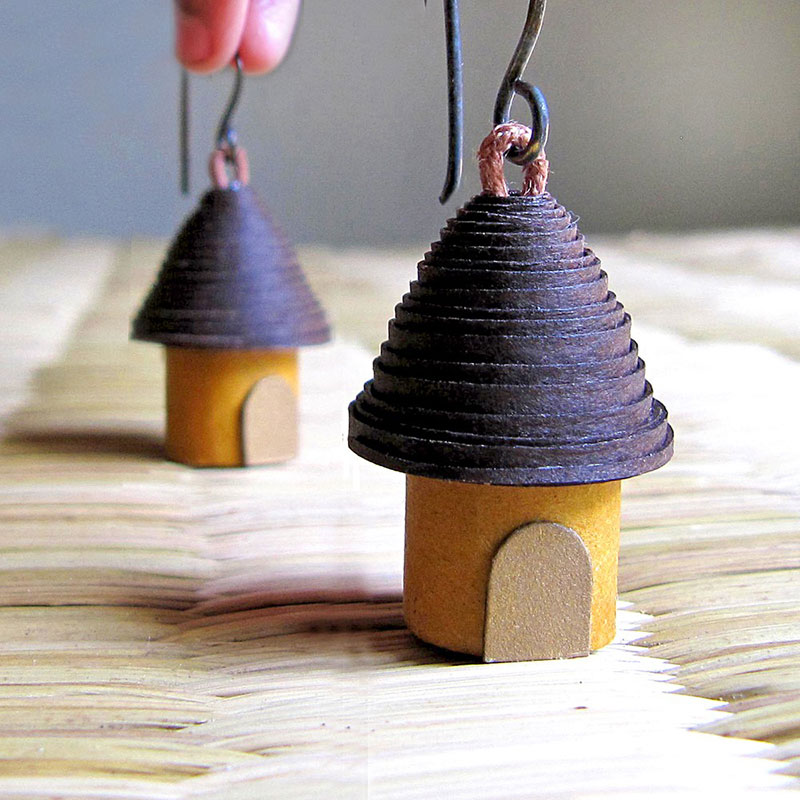 The earrings are my love!They are so cosy and warm – match any outfit!
Christina Maxwell
Beautiful earrings! Arrived in a lovely package and will be a wonderful gift for my mother.
Sara Montgomery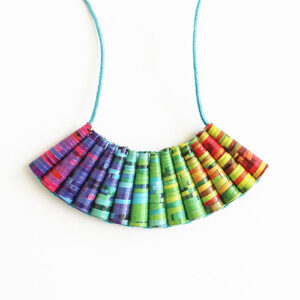 This necklace is absolutely beautiful. I was looking for something subtle I could wear on more formal occasions, such as for work and this fits the bill perfectly. I definitely recommend this shop.
Andy Martinez
Beautiful, I ordered several pair for gifts. It takes a little longer because they are beautifully hand crafted to perfection. The artist treats each order with a personal touch. I highly recommend. Her earrings look like metal but are made of metallic paper and are lightweight and comfortable, five star for sure.
Dolores Dragan
I absolutely LOVE the earrings! I have loved everything I have bought from you – but these might very well be my favorite of all of them!! I get SO many compliments  – they are fun, funky, unique, sparkly (but not too), beautiful, well-made and just … ALIVE! Because they are both silver AND gold, they match anything and everything. I don't have to even think about choosing between the two – I can wear both!
Nancy Wainer
Great communication! Quick delivery considering the distance between India and the United States!
Cindy Taylor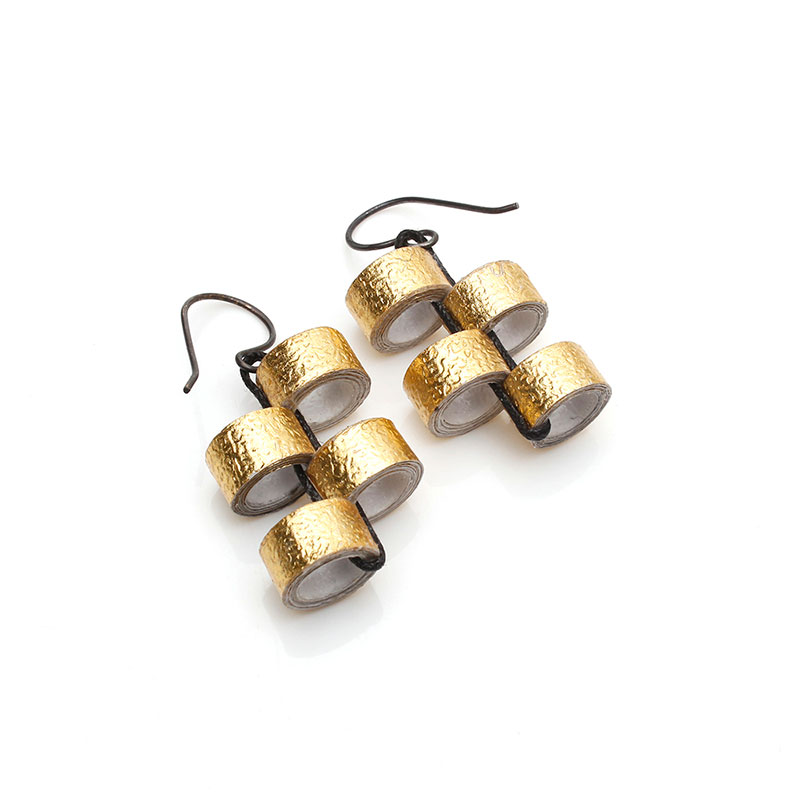 In the midst of the Covid pandemic, this order took a tad longer than anticipated. It was worth the wait. The earrings are so lightweight and pretty; Not only were they well protected in packing, they arrived in a pretty gift box. I'm happy with this purchase.
Anon Too
I wanted to buy something "different" for a gift to my wife for our 1st wedding anniversary and this certainly did the trick – everything from the handwritten addressed packaging to the hand-made unique necklace – I would certainly recommend this shop.
Declan Rowe